AWS Lambda architecture brings serverless to enterprise cloud
Editor's note
AWS Lambda debuted in 2014, giving developers a serverless computing service for running responsive code in cloud environments. AWS Lambda performs functions based on events that other Amazon cloud services trigger, enabling IT teams to use logic to improve integration between services.
The growing popularity of serverless computing, and AWS Lambda in particular, has changed the way that some cloud professionals approach application development. IT teams can use Lambda in a more limited implementation, such as tying together several back-end services. They also can create more elaborate AWS Lambda architectures that limit or eliminate the need for Elastic Compute Cloud instances, which makes for a more automated environment with less risk of latency and potential cost savings.
But AWS Lambda isn't the only option for serverless computing. Microsoft Azure Functions and Google Cloud Functions look to stake a claim on the serverless market share. Weigh deployment costs and management to decide which service is right for your enterprise.
Enterprises worried about lock-in risks with AWS Lambda can weigh more interoperable alternatives. For many development teams, the goal is to create a scalable cloud resource pool, and AWS Lambda helps keep applications and developers focused on code.
This guide introduces you to the basics of AWS Lambda, offers advice on how to manage serverless code, offers serverless computing alternatives for hybrid and multicloud deployments and more.
1

Configuration station -- Lambda in the enterprise

It's no small task to deploy a serverless framework. To properly configure AWS Lambda, admins must ensure that code runs properly across multiple services. And no enterprise uses serverless in the same way. IT teams must cautiously map out an AWS Lambda architecture to ensure it runs efficiently in the enterprise, which means taking a few extra steps to make certain it communicates effectively with other native AWS cloud services.
2

Tips and tricks to manage Lambda and serverless

It's one thing to establish an AWS Lambda architecture, and it's another to manage all associated functions. Serverless computing is difficult to monitor, which makes it difficult for IT teams to determine how and when something went wrong with the code. But, through trial and error, developers have tackled several common Lambda issues -- and they're taking unique approaches to increase visualization into how Lambda functions perform. Resources in this section will help you ensure your serverless code is up to snuff.

Download this free guide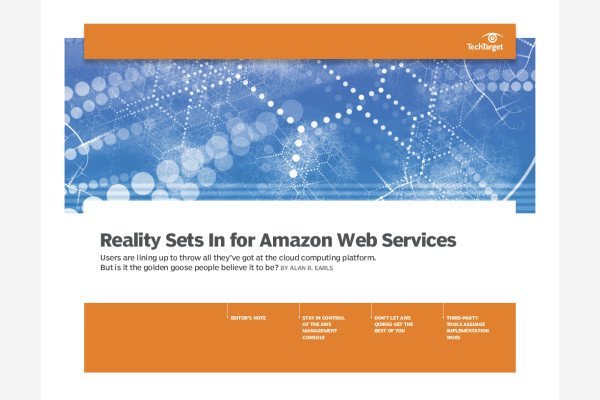 Download Our AWS Cloud Computing Must-Have Guide
While Amazon Web Services (AWS) has established itself as a top contender in the cloud computing market, it's not without its challenges and misconceptions. Get expert insight into the most common and pressing questions regarding AWS management, monitoring, costs, benefits, limitations and more.
3

Lambda alternatives and the evolution of serverless computing

Worried about getting locked in to Amazon Web Services? Don't fear. AWS Lambda isn't the only serverless computing game in town. Microsoft Azure Functions, Apex, Google Cloud Functions and Auth0's Webtask provide alternatives to the public cloud giant's Lambda service. IT teams must be aware of the features, risks and advantages of each serverless computing option. This section looks at how these services compare to help enterprises choose the right service for their needs.