Definition
Amazon Simple Queue Service (SQS)
Amazon Simple Queue Service (Amazon SQS) is a scalable and fully managed message queuing service that allows users to transmit any amount of data through the web without administrative responsibility.

Download this free guide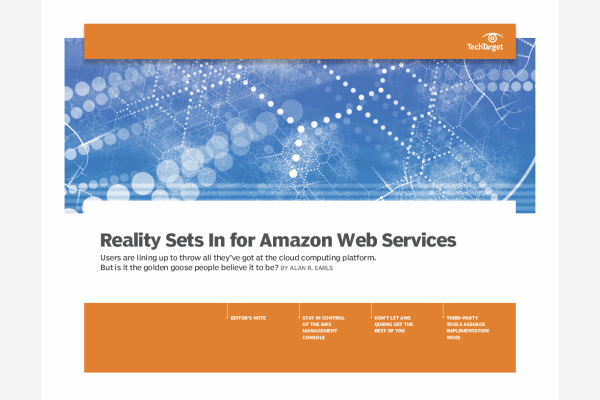 Download Our AWS Cloud Computing Must-Have Guide
While Amazon Web Services (AWS) has established itself as a top contender in the cloud computing market, it's not without its challenges and misconceptions. Get expert insight into the most common and pressing questions regarding AWS management, monitoring, costs, benefits, limitations and more.
By submitting your personal information, you agree that TechTarget and its partners may contact you regarding relevant content, products and special offers.
You also agree that your personal information may be transferred and processed in the United States, and that you have read and agree to the Terms of Use and the Privacy Policy.
Amazon SQS is a message queuing service that allows users to get started with basic APIs like CreateQueue, SendMessage, ReceiveMessage, ChangeMessageVisibility and DeleteMessage to read and write a limitless quantity of messages. Users can also "lock" a message to prevent anyone from reading it while it's being processed or prevent another server from processing it simultaneously. It can be used for distributing workloads and making sure users are providing fault-tolerance.
SQS takes a string or volume of data, and passes it to a server. There are two types of servers used in this process. A 'requesting server' sends the message to be performed and a 'worker server' receives the message, locks it, performs the task and then deletes the message. It's up to the user to determine how to format that text and how it's going to be understood on the other side. For example, it's like sending an email to someone giving them a task, but the request is formatted it in a way that your machine understands.
It isn't designed for a simple desktop app that doesn't need anything offloaded onto it. This service is best used by users getting into Web scale – or something that needs to scale to a near infinite capacity.
SQS ties into other Amazon Web Services like, Redshift, DynamoDB, Amazon Relational Database Service, Amazon Elastic Compute Cloud and Amazon Simple Storage Service, which can be helpful for storing files and make applications more scalable and reliable.
There is no minimum fee, so users only pay for what they use.
Continue Reading About Amazon Simple Queue Service (SQS)
Dig Deeper on AWS tools for development