Sizing up Google Compute Engine vs. Azure vs. AWS public cloud services
Which public cloud comes out on top in the Google vs. AWS vs. Azure debate? It depends on what you're comparing.
Enterprises weighing public cloud providers often start by comparing prices. And while sites such as Cloud Vertical...
Continue Reading This Article
Enjoy this article as well as all of our content, including E-Guides, news, tips and more.
and Cloudorado compare current cloud prices, examining price, performance, features and fit require a more complex model than just looking at ever-falling instance prices. When it comes to the "Big Three" cloud services -- Google Compute Engine, Amazon Web Services and Microsoft Azure -- the most cost-effective cloud platform may not be the one with the lowest price.
Cloudorado allows companies to enter requirements and compare the prices for public clouds and managed service providers. If you're comparing the storage prices for AWS vs. Azure vs. Google, then Google provides the lowest price for 1 TB (Table 1).
| | | | | | | |
| --- | --- | --- | --- | --- | --- | --- |
| Public cloud provider | Instance size | Memory allocation | Disk space | CPU | Compute unit capacity | Price |
| Google | f1-micro | 615 MB RAM | 1000 GB HDD | 1 vCPU | ~ 0.5 ECU | $46.05 |
| Microsoft Azure | Basic A0 | 768 MB RAM | 20 GB + 980 GB HDD | 1 vCPU | ~ 0.95 ECU | $61.96 |
| AWS | EC2 Micro t1.micro + 1000 GB EBS | 613 MB RAM | 1000 GB HDD | 1 vCPU | ~ 0.5 ECU | $64.40 |
This is just one scenario. Change the search to more compute-oriented instances, or Windows or Linux instances, and the public cloud service with the best price changes. When you max out RAM, storage and CPU, and narrow your search to cloud service providers that offer auto scaling, there are six public cloud contenders (Figure 1). This figure shows that Google leads the pack with pricing, Microsoft Azure ranks behind Google and AWS comes in behind Microsoft.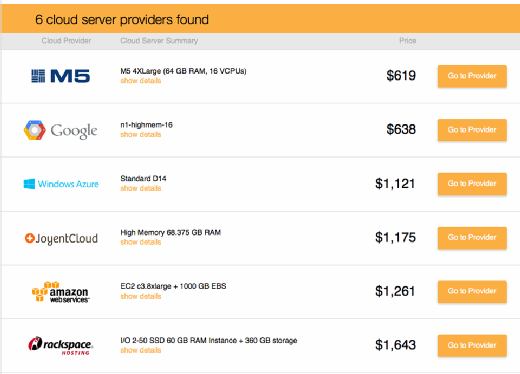 While price is one dimension, it could be misleading. Having a public cloud platform that meets your company's requirements is more important than price. Consider factors such as security services, governance services, point of presence and management services.
The best way to determine the right public cloud provider is to understand and list your requirements and evaluate which cloud service best meets them. Select a cloud holistically and make sure you do your homework on requirements. After that you can look into costs. Be sure to include security, business continuity, networking and transfer costs in your analysis. In many instances, these services could cost extra.
Ranking AWS among other cloud services
So which provider wins the Google vs. AWS vs. Azure contest? AWS' strength isn't its price, although prices are in light with others on the market. AWS provides more features and options, which means it meets more company requirements. If costs are secondary, AWS typically wins.
However, as Google and Microsoft add more features and services, the next three years could signal more AWS vs. Azure vs. Google competition -- not just on price but also innovation and services.