Fotolia
Evaluate
Weigh the pros and cons of technologies, products and projects you are considering.
Finding the right technology partner in AWS Marketplace
David Linthicum advises on what to consider when you're choosing a technology partner in AWS Marketplace.
AWS Marketplace is an online store that provides a way for sellers, such as software providers, to market and sell their products to those who leverage AWS and, in some cases, those who do not. The concept is the same as that of other marketplaces, where users can easily find, compare and immediately start using the software or services, which are typically a product that adds value to AWS public cloud services.
While the software offered in AWS Marketplace varies greatly, most provide publicly available, production-ready software that also has a strong track record in the industry. AWS even studies the standards of its providers, focusing on those that offer outstanding operations and ethical behavior, as well as a pledge to keep their software up to date and free of any defects and security issues.
Of course, this is about AWS; thus, the software needs to be primarily hosted on the AWS infrastructure, whether it's a software as a service (SaaS) or other type of cloud offering. Those approved for AWS Marketplace may need to produce proof of at least 10 customers, if requested.
The following figure depicts what a typical entry looks like; this one is for Radware. A short description is provided, as well as the technical details about the supporting platform, the AWS services required and the cost of its software or SaaS.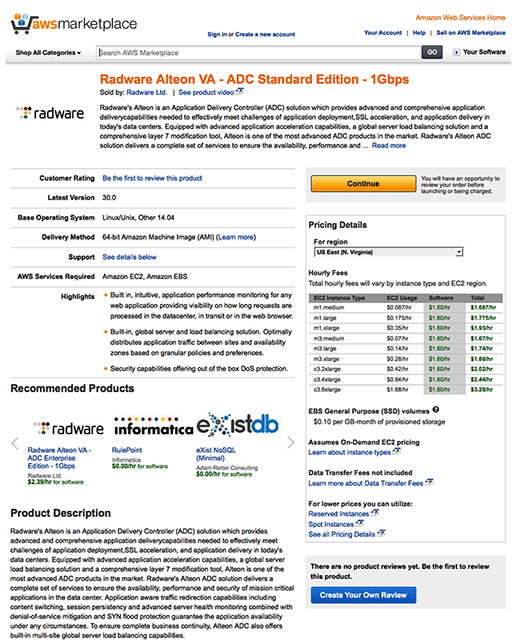 The high standards that AWS enforces mean that you're typically able to trust providers listed in AWS Marketplace. However, there are always things to consider when picking a technology partner from AWS Marketplace. Here are three pieces of advice:
First, make sure you vet the provider yourself. While AWS does a good job of running providers through a process to make sure they are not selling junk on their site, the ultimate decision maker is you. Vigorously test the software or service, and validate its overall features, security, stability, performance and so forth. In many instances, providers will allow you to do this at no cost, or perhaps refund the cost of the testing, once you purchase the software or service.
Second, understand the dependencies in AWS. Many of those in the marketplace are there because they run on the AWS platform. Thus, you're typically paying for AWS services (S3 and EC2, for example), as well as for the use of AWS software or software services. You need to understand exactly which services you are employing, and how much those services are likely to cost you now, as well as when things scale up in the near and distant future. These are complex cost analyses, considering that AWS pricing will change over time and the impact on the AWS resources you are using is controlled by the software or service in AWS Marketplace.
Finally, if you have issues, work with AWS and with the software or service provider. One of the advantages of buying from AWS Marketplace is that you have some power of recourse through the AWS relationship. However, AWS can't force a provider to do anything outside the boundaries of their legal relationship.
AWS Marketplace is a nice value-added service to those who work within the AWS cloud. It allows access to providers you may need and gives you a basic understanding about what they do and how well they should do it. However, much like your local marketplace where you buy groceries, you'll have to thump the fruit before you buy.
Dig Deeper on AWS partners and resellers