freshidea - Fotolia
Amazon Alexa development reverberates beyond Echo into enterprise
The Amazon Echo was a success from a retail standpoint, and developers are prying loose the Alexa voice-controlled user interface software to use in web applications.
Amazon was a latecomer to the game of giving consumers a device that connects them to web apps. But it gained ground with the launch of Alexa, its voice-controlled user interface that debuted with Amazon Echo. Alexa started out as a tool that let users check weather and play music, and has since evolved to enable them to summon Uber cars, control internet of things devices and access web applications in a new way. Amazon has been pursuing an aggressive strategy to enroll developers and enterprises in building apps for this platform.
So how does this technology trickle down to the enterprise? The Alexa Skills Kit lets enterprises add a voice interface to any web app; while the Alexa Voice Service (AVS) lets device makers add a voice interface to their products for free. This makes it easier to integrate Amazon Alexa development into devices such as speakers, smart phones and smart appliances. The platform has potential to drive cell phone-like headsets without the need for a screen, as there is already an Alexa-powered speaker that lets consumers make phone calls.
The Alexa Skills Kit lets enterprises add a voice interface to any web app; while the Alexa Voice Service lets device makers add a voice interface to their products for free.
Companies can use the Alexa Voice Service to add voice-powered experiences to any connected product that contains a microphone and a speaker. The free service enables end users to control devices through a voice interface, which can be more intuitive than a traditional interface. The back end is cloud-based, which makes it easy to scale the service quickly. AVS manages all of the services needed to interpret speech and then translate text into audio on the device, allowing device makers to differentiate services.
End users press a button and either ask the device a question or issue a command to begin interaction. Audio is captured and sent to the back end. AVS and the Alexa Skills Kit can create sophisticated interactions when used in tandem. For example, a smart watch could track cadence, heart rate or stress from a voice menu. And an end user could control audio playback, manage time and configure device settings with the Alexa app.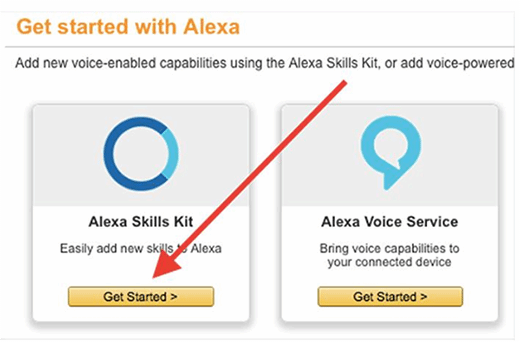 Early adopters of AVS include Wink and Scout Alarm. Wink enables consumers to turn on lights, lock doors and control temperature. With Scout Alarm, consumers issue spoken commands when they leave the home and remotely check home security.
Amazon Alexa development does not yet support biometrics to secure the service based on a speaker's voice pattern -- one of the major security limitations in Alexa apps. Virtually anyone in the home could check your bank account balance or order unwanted products. But a simple software update to the platform could change that.
Amazon Alexa development makes web apps voice-friendly
Developers can add back-end services to the platform using the Alexa Skills Kit -- a collection of APIs, tools and code samples. To access these services, customers ask Alexa a question or issue a voice command. For example, the Campbell Soup Company implemented the Alexa Skills Kit with its Campbell's Kitchen application to give consumers hands-free access to recipe ideas using the Alexa device. Capital One lets customers check balances, pay bills and track spending. And HomeAdvisor enables consumers to find plumbers or electricians and then call them -- all via Amazon Alexa.

Developers can implement custom skills using either an AWS Lambda function or a web service. With AWS Lambda, the skill runs in the cloud and can be written in Java, Node.js or Python. Developers can also create a web service in any language that interacts with Alexa, and it can be hosted on AWS or any other cloud-hosting provider using HTTPS requests. Developers also need to create a custom interaction model that defines requests for skills to handle and the words to access those requests.
There is also a Smart Home Skill API that can make it easier to control smart devices from cloud services. Internet of things device makers are adding Amazon Alexa development to their devices using the Alexa Skills Kit, as vendors have already integrated support for thermostats, security cameras, light bulbs, door locks and sprinkler controllers. Alexa integration with adapters that plug in to a car's diagnostic port lets consumers check fuel levels, remind them of where they parked and track mileage.
Startups can apply to the Alexa Fund to grow their services. The fund offers $100 million in venture capital to drive voice technology innovation.
Dig Deeper on AWS artificial intelligence