Developers warily embrace AWS Cloud9 IDE
At AWS re:Invent 2017, Amazon Web Services introduced developers to its new cloud-based coding environment, AWS Cloud9 IDE, with some taking a wait-and-see approach to it.
LAS VEGAS -- Every great platform should have a solid application development environment -- but developers at AWS re:Invent indicated AWS Cloud9 IDE has room for improvement before it wins them over in a crowded market.
Amazon Web Services filled a void in its portfolio with an integrated development environment, AWS Cloud9 IDE. AWS lacked an IDE for its platform so it acquired Cloud9 in 2016. Key features include the ability to edit and debug AWS Lambda Functions, code completion and code hinting suggestions, support for collaborative editing and chat, and support for the Go language, as well as dynamic languages such as JavaScript, Python, PHP, Ruby, Go, and C++. It can run online in a managed Amazon EC2 instance, or offline on any Linux server that supports SSH.
Overall, developers and industry experts at AWS re:Invent 2017 here last week welcomed AWS' new IDE, the latest entry in a crowd of cloud-based development environments.
"For any IDE to be successful it has to be very comprehensive," said Amit Khanna, senior vice president of technology at Virtusa, an IT services company based in Westborough, Mass. "This completes a story for AWS now that they have an IDE for the platform -- especially because there are now so many data services that can be composed very quickly."
The ability to work offline and online in AWS Cloud9, so developers can write, run, and debug code from any machine with just a browser, is a particular selling point to Justin Rupp, systems and cloud architect at GlobalGiving, a crowdfunding organization in Washington, D.C. He will evaluate AWS Cloud9 among other options as his company moves to a cloud-based IDE in the next year.
AWS Cloud9 IDE reduces a barrier to entry for cloud developers by being more accessible, and sweetens the pot with the addition of team functionality and the SageMaker machine learning tool, said Mark Nunnikhoven, an Ottawa-based vice president of cloud research at Trend Micro with U.S. headquarters in Irving, Texas.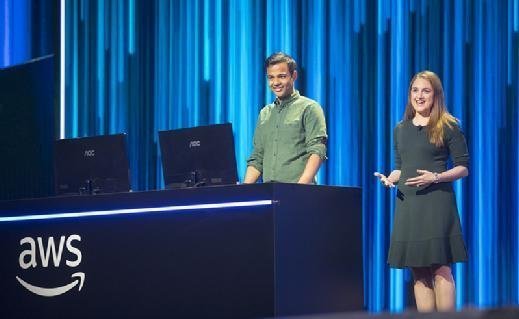 Devs hesitant to stray from home
Not everyone thinks AWS Cloud9 IDE will easily lure developers away from their preferred code editor or programming environment, however. Many companies let their developers use whatever IDE they want so they maintain a consistent code style. Cloud-based development environments do that, but may lose some customization that many developers want.
"Developers love their tools, so to get them to move can be monumental -- and for AWS this means moving from [Microsoft's] VS Code to Cloud9," said Michael Facemire, an analyst at Forrester Research in Cambridge, Mass. "They'll have some advantages being able to quickly ingest and offer up other AWS services in the tool, but if that's enough to move developers is still to be seen."
For some developers at AWS re:Invent, it's still too soon to tell if they'll make that switch.
[There's no Java support.] That's one of the most popular languages and they don't even have it yet.

Justin Ruppsystems and cloud architect, GlobalGiving
"While products like this AWS one will make your code style consistent, you lose some of that customization that many developers seek," GlobalGiving's Rupp said.
J. Fudge, a software engineer at Raytheon in Dallas echoed those sentiments. "It's a new IDE and developers are often attached to their IDEs. So I don't see that as being anything we would adopt any time soon, if at all," he said.
Josh Stella, CEO of Fugue, a Frederick, Md., DevOps infrastructure software provider, said he lets his developers use whatever IDE or editor they want as long as their code complies with company policies. His team also will evaluate AWS Cloud9 among IDE options.
"AWS has turned the world into distributed application developers," Fugue's Stella said. "This tool will bring portability of the developer experience."
Developers at AWS re:Invent 2017 had other concerns about AWS Cloud9 IDE as well. GlobalGiving's Rupp bristled a lack of direct support for Java -- the JDK is not installed, but you can do Java with some tricks. "That's one of the most popular languages and they don't even have it yet," he said.
And one senior software developer at a large government agency, who asked for anonymity because he did not have clearance to speak for the organization, criticized AWS Cloud9 support for pair programming.
"I like that they have included a way to do pair programming, but their implementation of it sucks," he said. "If you're in a very secure environment like me, to use their implementation opens you up to potential vulnerabilities, from what I have seen in playing with it."