AWS Lambda aims to shear time off cloud development
Developers can use AWS Lambda to target code in response to real-time "events." However, the benefits may only exist if you use and stay on AWS.
AWS Lambda is a cloud-based programming and processing service designed to let developers write code that runs automatically in response to specific "events," such as clicks on a website or updates to a database. Amazon Web Services, which introduced Lambda in November 2014, says the technology makes it easier to build, deploy and manage applications that can respond immediately when triggered.
The buzz: The freedom to write and execute code without having to manage a complex hardware and software infrastructure has been an unattainable golden fleece for developers. Lambda, though, offers a zero-administration platform that lets users create processing "functions" and then leave it to the service to marshal the required AWS resources and monitor the execution process. "With Lambda, you don't worry about underlying hosts at all. You just write a few lines of code and tell it when to execute," said Chris Moyer, technology vice president at content aggregation service ACI.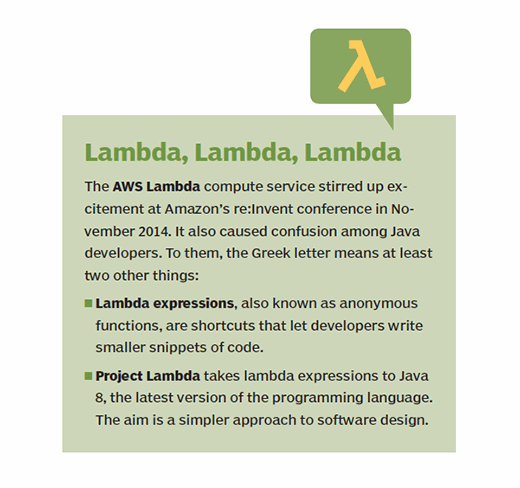 The reality: AWS Lambda sounds like good news -- for developers and organizations that are on AWS and committed to staying there. Compare that with IronMQ, a similar, four-year-old product that can be deployed in public and hybrid clouds on AWS and other platforms. Also, while users can bypass steps in executing code with Lambda, they lose customization and local storage options. Finally, AWS Lambda is still a preview technology. One can only hope that as it progresses toward a general release, it's not in like a lion and out like a … you know.