Evaluate
Weigh the pros and cons of technologies, products and projects you are considering.
Explore new AWS offerings for developers and enterprises alike
This Amazon Web Services guide contains expert insights and tips on three new AWS offerings: AppStream, Kinesis and WorkSpaces. It also provides advice for managing overprovisioning in AWS and other cloud environments.
Introduction
Amazon Web Services just keeps growing and growing. Late 2013 saw the announcement of three major new AWS offerings:
As of early 2014, only Amazon Kinesis is widely available, with the other two services remaining in "limited preview" format. But all three are poised to shake up how both developers and businesses use the cloud.
This guide introduces the three new AWS offerings, providing insights about whether and when to use them. As a bonus, it includes two videos from the most recent Amazon re:Invent conference that examine the issue of overprovisioning. The guide also offers an extensive glossary of AWS-related terms, and there's even a quiz that will test your knowledge.
1

AWS insights

-
Learning all about AWS
Find everything you need to know about Amazon Web Services. This section includes tips, frequently asked questions and expert responses on everything related to the three new AWS offerings: AppStream, Kinesis and WorkSpaces.
2

AWS Videos

-
AWS advice concerning over-provisioning
Experts answer question about AWS, cloud computing and overprovisioning in this video section. Take a look at how different experts answer common AWS concerns about avoiding buying too much of one thing and not enough of another.
News
Learn what to do when you've found that you're purchasing too much cloud computing power. Continue Reading
News
For organizations that have moved to the cloud, they are overprovisioning resources without any cost-control tools. Continue Reading

Download this free guide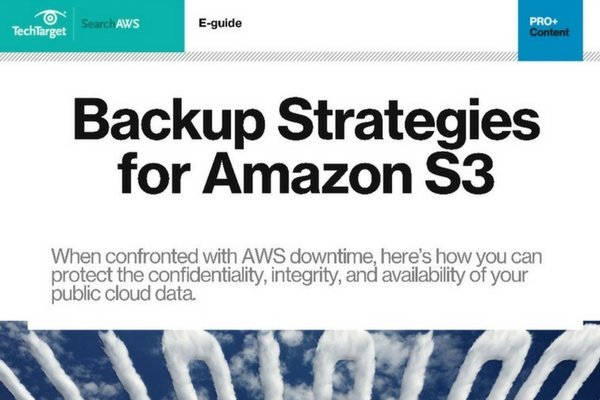 Amazon S3 in the spotlight: Your 34-page backup guide
In this guide curated by the SearchAWS.com editors, you'll evaluate and overcome the DR tradeoffs associated with Amazon S3, with guidance on solidifying an AWS backup plan and securing S3 buckets. Download your copy now.
3

Quiz

-
What do you know about AWS services?
Find out if you can answer questions on AWS Infrastructure as a Service. This quiz was designed to test your knowledge on the subject and then gives you the correct answers if you've missed any.
Take This Quiz
4

AWS defined

-
AWS glossary of terms
What is AWS? Find definitions for all terms related to Amazon Web Services in our glossary section, as well as links to related articles, news and tips.