 BACKGROUND IMAGE: iSTOCK/GETTY IMAGES
AWS vs. Google comparison guide
Editor's note
Over the last few years, Amazon Web Services had become a household name for public cloud providers. But other cloud providers, such as Microsoft Azure and Google, are close on AWS' heels for customers and revenue.
In this guide, we examine the two top competitors in the public cloud space -- AWS and Google -- and compare them side by side on performance, cost, features and services. Armed with this information, you'll better understand where each infrastructure as a service (IaaS) provider stands in the cloud market to make the best decision for your organization.
1

AWS or Google: Which is the better deal?

Low cost shouldn't drive public cloud buying decisions. But companies don't want expensive surprises either. In the uber-competitive world of public cloud providers -- where IaaS is a race to the bottom -- researching and understanding a cloud provider's pricing structure can pay dividends.
2

Finding the right fit for AWS and Google cloud

Lately, talk around public cloud is all about containers, big data and applications, applications, applications. Docker and big data technologies are all the rage -- promising companies less-complicated development and greater return on investment, among other things. Multiple cloud providers, including AWS and Google, drank the Kool-Aid, offering managed services for containers and for big data analytics. This section will help keep you up to date on which vendor supports which technology-- and what that can mean for your company.

Download this free guide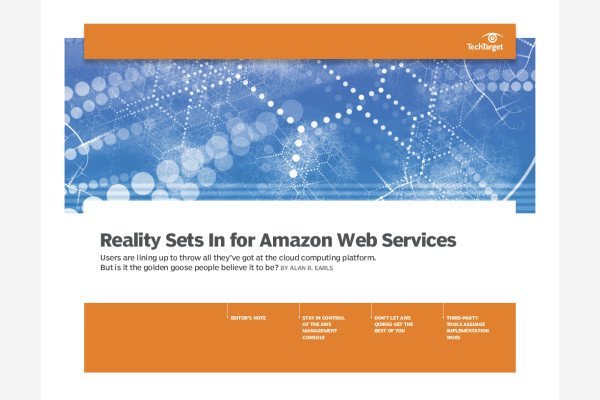 Download Our AWS Cloud Computing Must-Have Guide
While Amazon Web Services (AWS) has established itself as a top contender in the cloud computing market, it's not without its challenges and misconceptions. Get expert insight into the most common and pressing questions regarding AWS management, monitoring, costs, benefits, limitations and more.
3

Find your perfect match in public cloud

Which public cloud provider -- AWS or Google -- can make you happiest? Finding the perfect public cloud provider means researching what you really need and what that provider has to offer. Take this quiz to find out whether you have a better connection with AWS or Google.
4

Defining AWS and Google cloud