Chef is an open-source systems management and cloud infrastructure automation framework created by Opscode.
Download Our AWS Cloud Computing Must-Have Guide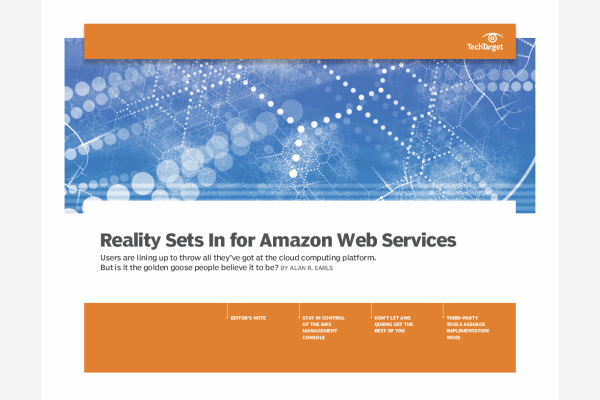 Beyond the hype. Get answers to the most common and pressing questions regarding the managing, monitoring and addressing of potential problems in the AWS cloud.
By submitting your email address, you agree to receive emails regarding relevant topic offers from TechTarget and its partners. You can withdraw your consent at any time. Contact TechTarget at 275 Grove Street, Newton, MA.
You also agree that your personal information may be transferred and processed in the United States, and that you have read and agree to the Terms of Use and the Privacy Policy.

DevOps can use Chef to deploy and manage servers and applications in-house and in the cloud. Cookbooks and recipes tell Chef how each node in an organization should be configured. Opscode recipes describe the state a resource should be in at any given time. Chef stores these files in cookbooks along with other necessary configuration files. The chef client, which is installed on every node, does the actual configuration. Opscode cookbooks are available on the Chef site's wiki-style community pages and on GitHub.
Opscode did a complete overhaul of Chef's underlying code for Chef version 11, swapping out Apache CouchDB for the PostgreSQL relational database and the Ruby programming language for Erlang. The result is beefed-up scalability in which a single Chef server can be used to configure more than 10,000 nodes.
Chef is available in three different versions:
Private chef - an enterprise version which supports multi-tenancy and runs in-house behind a firewall.
Hosted Chef - a SaaS managed cloud service hosted by Opscode.
open source Chef - a free download that requires that each instance of Chef to be configured and managed locally.
Continue Reading About Opscode Chef
PRO+
Content
Find more PRO+ content and other member only offers, here.