Definition
Amazon EC2 Container Service
Amazon EC2 Container Service (ECS) is a cloud computing service in Amazon Web Services (AWS) that manages containers. It allows users to run and alter applications or microservices on groups of servers called clusters through API calls and task definitions. Amazon ECS is a scalable service that is accessible through the AWS Management Console and through software developer's kits (SDKs).

Download this free guide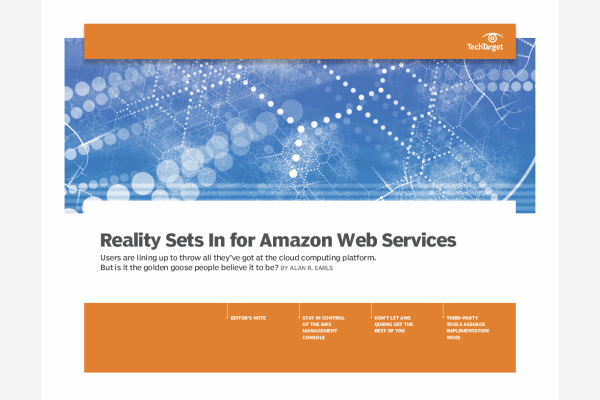 Download Our AWS Cloud Computing Must-Have Guide
While Amazon Web Services (AWS) has established itself as a top contender in the cloud computing market, it's not without its challenges and misconceptions. Get expert insight into the most common and pressing questions regarding AWS management, monitoring, costs, benefits, limitations and more.
By submitting your personal information, you agree that TechTarget and its partners may contact you regarding relevant content, products and special offers.
You also agree that your personal information may be transferred and processed in the United States, and that you have read and agree to the Terms of Use and the Privacy Policy.
Amazon developed ECS in response to the rise of popularity of containerization, which specifies rules for isolated sets of Elastic Compute Cloud instances to increase portability and computing performance by running on top of a host operating system. ECS supports Docker, an open source Linux container service.
ECS enables users to create and run Docker containers for distributed applications using a set of APIs. ECS evaluates and monitors CPU and memory output to determine the optimal deployment for a container. AWS customers can also use the service to update containers or scale them up or down. Elastic Load Balancing, Elastic Block Store volumes and Identity and Access Management roles are also supported for further customization.
EC2 Container Service includes two schedulers, which allow users to deploy containers based on computing needs or availability requirements. Long-running applications and batch jobs benefit from the use of schedulers for their responsiveness; ECS also supports third-party scheduling options.
Any third-party or private Docker registry can access ECS; the user needs to only specify the repository in the task definition for ECS to retrieve the images.
There is no additional cost to AWS customers for using ECS, though users still pay for EC2 instances in the cluster, plus any other billable AWS resources used. ECS limits users to 1,000 tasks per service and 10 containers per task definition.
Continue Reading About Amazon EC2 Container Service