AWS SDK for JavaScript
The AWS SDK for JavaScript is a collection of software tools for the creation of applications and libraries that use Amazon Web Services (AWS) resources.
Looking for something else?
PRODUCTS
The AWS SDK for JavaScript is a collection of software tools for the creation of applications and libraries that use Amazon Web Services (AWS) resources. There are separate software development kits (SDKs) for browser-based or server-side JavaScript application development.
Download Our AWS Cloud Computing Must-Have Guide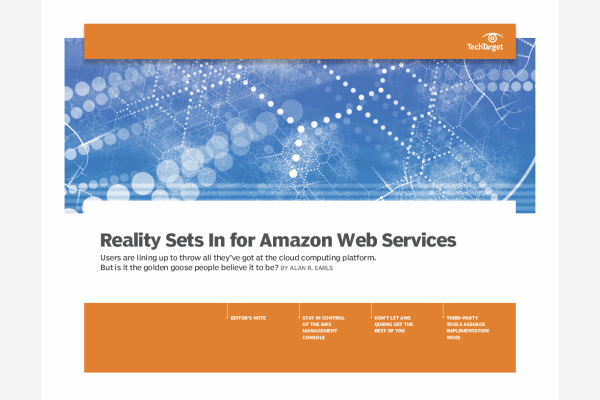 Beyond the hype. Get answers to the most common and pressing questions regarding the managing, monitoring and addressing of potential problems in the AWS cloud.
By submitting your personal information, you agree to receive emails regarding relevant products and special offers from TechTarget and its partners. You also agree that your personal information may be transferred and processed in the United States, and that you have read and agree to the Terms of Use and the Privacy Policy.

The AWS SDK (software development kit) for browser-based development allows developers to access AWS from JavaScript code running directly in the browser. Web identity federation allows user authentication through Facebook, Google, or Amazon login.
For server-based applications, developers use the AWS SDK for JavaScript in Node.js. The SDK includes JavaScript objects for connection to important AWS components such as Amazon S3, Amazon SQS, Amazon SNS and DynamoDB.
To use the AWS SDK for JavaScript, developers need only download the appropriate SDK – there are no other software requirements. However, access to the SDK environment requires an AWS account and access keys.
See a video introduction to the AWS SDK for JavaScript:
Continue Reading About AWS SDK for JavaScript
Dig Deeper on AWS tools for development
PRO+
Content
Find more PRO+ content and other member only offers, here.