Evaluate
Weigh the pros and cons of technologies, products and projects you are considering.
AWS pushes for database domination
AWS has made it a priority to win over customers in the database market, specifically Oracle shops. And the public cloud provider has a new weapon in that battle — an upgraded primary database conversion tool.

Download this free guide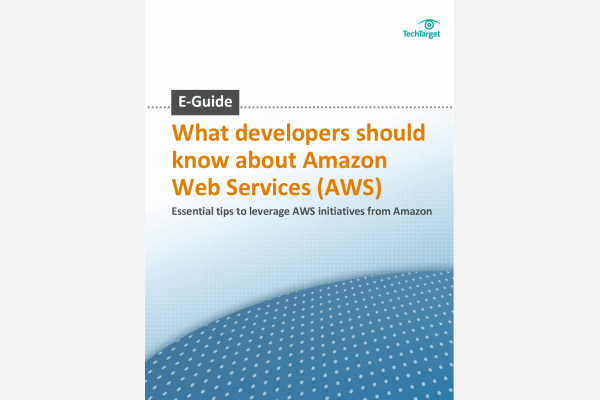 Download Our Developers' Guide to AWS
AWS is not only making it easier to manage and analyze data, but did you know that AWS also offers a library of free datasets? That's not all. Uncover two more things you may not know.
By submitting your personal information, you agree that TechTarget and its partners may contact you regarding relevant content, products and special offers.
You also agree that your personal information may be transferred and processed in the United States, and that you have read and agree to the Terms of Use and the Privacy Policy.
The AWS Database Migration Service (DMS) now supports NoSQL databases, enabling developers to move databases from the open source MongoDB platform onto DynamoDB, Amazon's native NoSQL database service. AWS DMS also supports migrations to and from Amazon Aurora, PostgreSQL, MySQL, MariaDB, Oracle, SAP ASE and SQL Server as database sources. The cloud provider could target other NoSQL database providers for support in the future.
In addition to homogenous migrations, the AWS Schema Conversion Tool converts database schema to enable migration from a disparate database platform to a target on Amazon Relational Database Service, such as from Oracle to Amazon Aurora.
AWS also recently added support for data lake conversions from Oracle and Taradata to Amazon Redshift, a swift response to an Oracle licensing update that hiked fees for Oracle cloud users.
Despite the potential of lock-in, enterprises are interested in the ability of the DynamoDB platform to integrate database information with other AWS tools. And AWS is happy to beat its chest over winning these database customers — it passed 22,000 database migrations in late March, AWS CEO Andy Jassy claimed on Twitter.
It's getting crowded in the AWS toolbox
Among AWS' slate of recent service and tool updates, here are several other noteworthy tidbits: